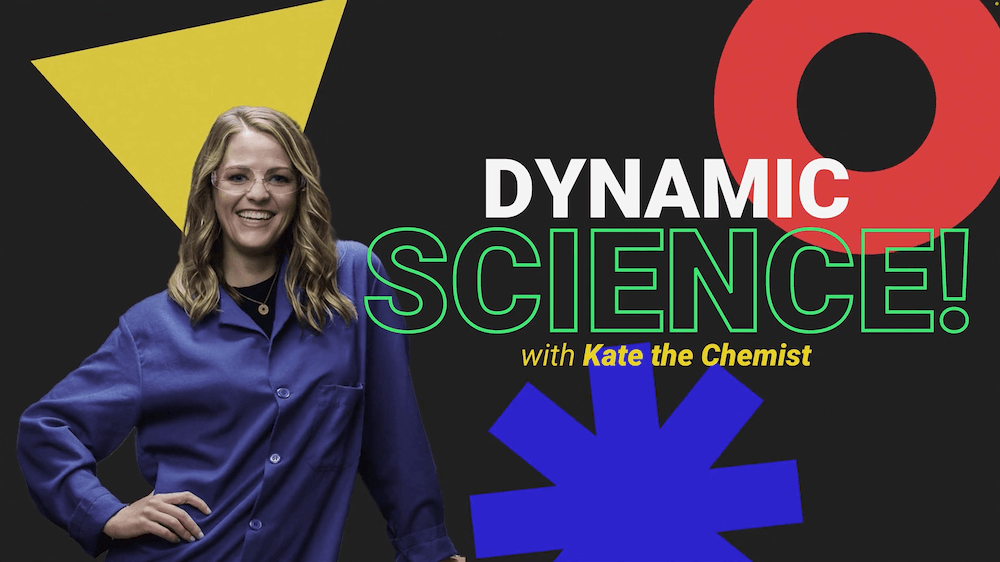 Who loves Science? We at Summit K12 do, and we are so excited to bring you this exclusive interview with Dr. Kate Biberdorf, "Kate the Chemist!"

From her site, "Dr. Kate Biberdorf is a chemist, science entertainer, and professor at The University of Texas. Through her theatrical and hands-on approach to teaching, Dr. Biberdorf is breaking down the image of the stereotypical scientist while reaching students who might otherwise be intimidated by science. 
​She is the author of the bestseller The Big Book of Experiments, The Awesome Book of Edible Experiments for Kids, the fiction series Kate the Chemist, and the nonfiction book It's Elemental: The Hidden Chemistry in Everything. She's been profiled in the Washington Post, The Wall Street Journal, and The New York Times. She's appeared on The Today Show, The Kelly Clarkson Show, NBC Nightly News, The Rachael Ray Show, StarTalk with Neil deGrasse Tyson, and Late Night with Stephen Colbert."
Kate has been working with Summit K12 to bring our students some of the most engaging, fun, and exciting videos for the 2024 Science curriculum Adoption in Texas.
In this interview, Kate and I discuss the beginning of Kate's work, her impact on the Science field, her books, how she created her brand while making a difference, along with tips on how to help parents and teachers help students get past their Science fears.  Finally, we discuss her exciting work with Summit K12, and you'll hear what she's up to in the future!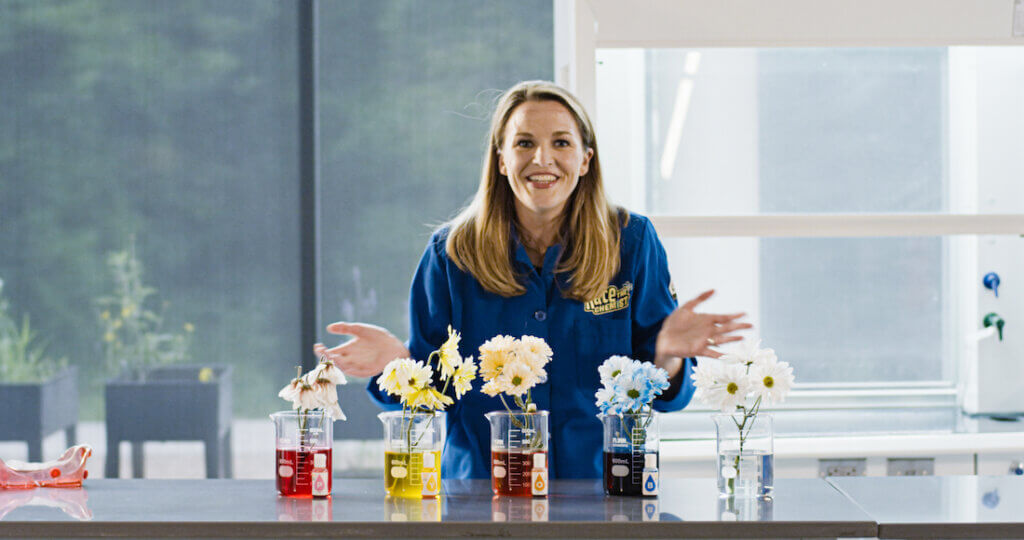 Let's Go!
Love of Chemistry
Robyn Shulman: I read you loved chemistry in high school. Was there anything that drew you into the subject specifically, or was it just a natural area that attracted your interest?
Dr. Kate Biberdorf: I have been asking questions since I was a kid. I used to drive my parents crazy. They would count the number of questions I would ask on car trips.
I've always had an inquisitive nature, but it wasn't until my sophomore year of high school that I met Mrs. Kelly Palsrok; she was amazing.
Robyn: Can you tell me more about her?
Kate: She would run around the classroom and light stuff on fire. And truthfully, ever since I was 15, I knew I wanted to be a chemist because of that teacher.
Robyn: How many elementary students do you reach annually with your shows?
Kate: When I was doing my outreach program, I reached an average of 20,000 students a year. My best year was 28,000-29,000 students. I have no idea because it's national, and I do a lot of TV stuff. So, I hope it's bigger. I hope it's larger. I hope the impact has grown.
Robyn: How many college students do you teach annually?
Kate: From the college student aspect, I have about 1000 students every semester. So two classes of 500 students each.
Books that Bring Chemistry to Life
Robyn: You've written so many exciting and fun books. What is your favorite book from all you've written, and why?
Kate: Well, I like each of the books for different reasons. But, The Big Book of Experiments will always be the closest to my heart. That was the one I developed while running the outreach program Fun with Chemistry.
Robyn: Can you tell me about the journey of writing that specific book?
Kate: It started as a PDF I would send to parents who asked me for more experiments. And so I would send them this PDF, and it got longer and longer and longer.
Eventually, I partnered with Penguin, and we took this garbled PDF I had been building, and converted it into a book that had step-by-step pictures.
Robyn: Anything special you'd like to share about the book?
Kate: It has a lot of color, and there's also a feminine flair in there to try to – again, subtly prove that anybody can be a scientist. 
Robyn: On The Kelly Clarkson Show, you discussed your book, It's Elemental: The Hidden Chemistry in Everything. You mentioned you had a favorite part of chemistry, and I found that comment interesting.
What are your favorite parts of chemistry and why?
Kate: Well, what I do say for my book – is that these are my favorite parts of science, but I highlight my favorite parts of science in the book.
And so what that book is – it's the busiest day of your life, and I highlight different times when science will pop into your experiences.
Robyn: I love this idea. Can you please explain in greater detail?
Kate: Sure. I start with breakfast, and I talk about coffee, an omelet, and all that science. We then go into an early morning workout and getting ready for the day, and I talk about the science of hair, makeup, fashion, and textiles.
And then, at the end of the book, we talk about date night. Meaning – What's it like to be attracted and actually have chemistry with your partner?
Robyn: So, without the context of the book, what is one thing you love about chemistry?
Kate: Chemistry explains everything around us; no matter your question, you can answer it with chemistry. The colors you're looking at, why your clothing flows the way it does, what the wind is, how planes work, how your car works, how the cell phone works – it all comes down to atoms and molecules. 
And if you have a decent grasp of chemistry and the fundamentals of chemistry, you can explain everything you interact with daily.
Making a Name while Making a Difference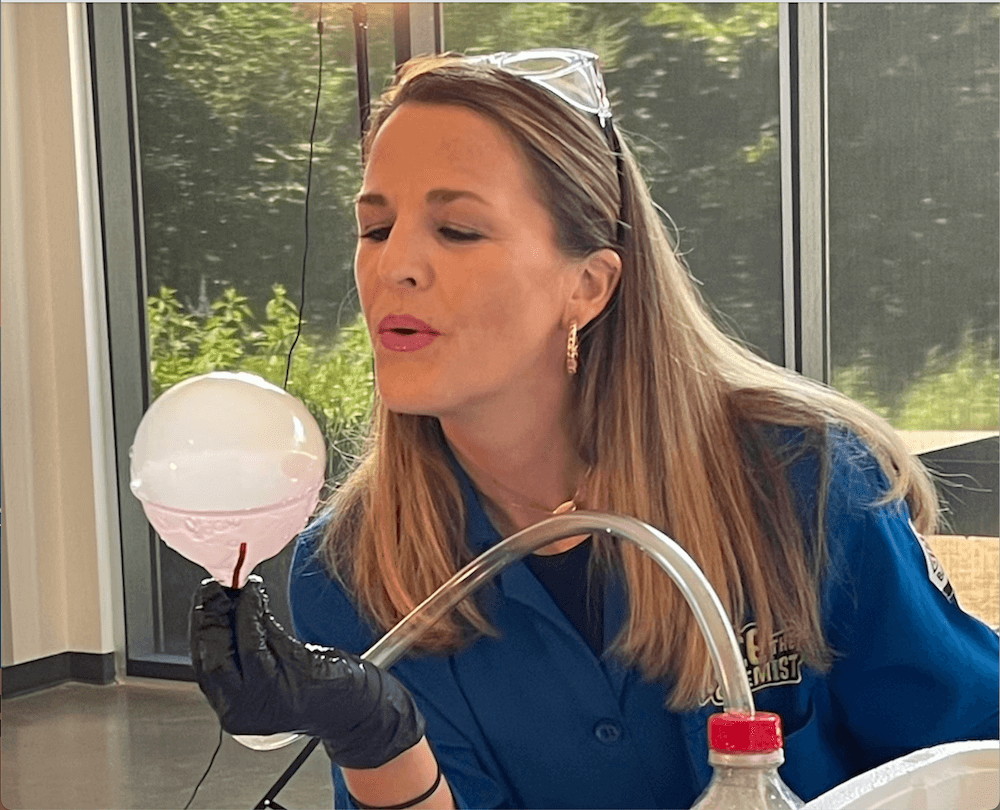 Image by Christina Flygstad.

Robyn: You mentioned earlier that you wanted easy experiments for anyone because you can find materials anywhere.
Can you elaborate?
Kate: I did a lot of work with Title One Kids in the outreach program. When I was building the book to actually publishing it – the only experiments that made the cut were ones that low socioeconomic students could do.
And so one of my rules was that you either had to be able to find the material in a craft drawer – just like a typical standard craft drawer – or you could order it on Amazon.
If it weren't in one of those two places, then it would not make the book. 
Robyn: Please tell me how and when you noticed students were intimidated regarding learning science. What do you think is the fear factor?
Kate: I couldn't tell you when I noticed that because I think that's something I've always innately known. People don't like not knowing the answer. That makes people uncomfortable.

And, to be a scientist, that's what you have to embrace – the fact that we don't know everything and we have questions. Also, being a scientist is all about trying to find the answer to your specific question.
And I think that's what I love about it. 
Robyn: How did you take the concern of hesitancy in science forward and make such an incredible difference in the field while simultaneously making a name for yourself?
Kate: I think that Kate the Chemist brand just fell into my lap. And I just ran with it. Personally, my mission has always been trying to show people that anybody can be a scientist. You know, I grew up without having someone in the classroom.
We wheeled Bill Nye on a TV cart to watch his show, and that was the only way we brought science alive to myself in my small town of Portage, Michigan.
Robyn: Do you hope to do for others what Bill Nye did for you?
Kate: My goal is to do what Bill Nye did for me, but in person and in the classroom. So, I pick up the liquid nitrogen and the dry ice – and I haul it out to the schools to show these kids. 
Because if you see the liquid nitrogen, dry ice, and fire, it's that emotional response you have to get that actually ignites that fire. And kids actually do start falling in love with the subject. And when you're passionate about it, they'll become passionate about it.
Kate's Passion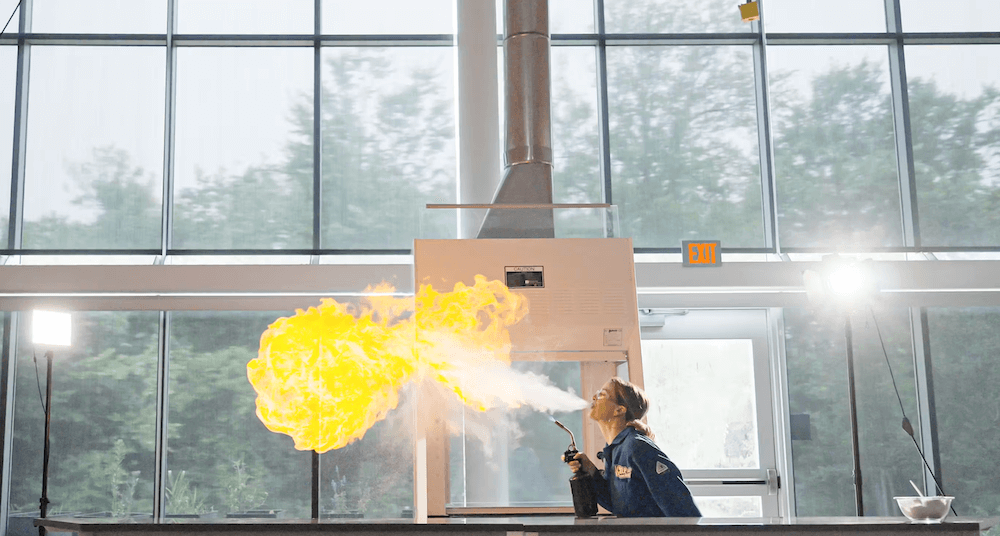 Image by Christina Flygstad, Cory Venable, and Ricardo Santiago.
Robyn: From TV shows, writing books, your podcast, visiting schools, creating amazing videos, and teaching – Do you have a favorite activity out of all these incredible initiatives, and why?
Kate: I'm a performer at heart. If I only had to pick one thing to do for the rest of my life, it would be to teach in front of that classroom – the big college classroom, the General Chemistry, 18-year-old kids, 500 eyeballs.
Well, I guess – 1,000 eyeballs are staring at me at once because there are 500 students. 
And so there's something about bringing chemistry alive for college freshmen that just ignites my soul.
I really, truly love that. But it all comes back to the same thing. I like to perform. I like fire and showing people how my field can make the world a better place.
Science Tips for Teachers and Parents
Robyn: What would be one piece of advice you would give to parents and teachers who find their students struggling with chemistry?
Kate: Admit that you don't know what you're saying. Admit that you don't know it either. That's the biggest piece! Parents are afraid to announce to their kids, "I don't know, I'm not sure." But that's what being a scientist is – Having those questions, not knowing the answer, and trying to find it.
Robyn: Great tip. Do you have any further recommendations?
Kate: One of the things I recommended the most during the pandemic was to go for a walk with your family and have it be a science walk. And, literally – anything your kid looks at – foster that interest. Ask questions about it, take pictures of it, do a reverse Google image search, and see what you can come up with because our smartphones are in our hands. And so it's so easy to get information quickly.
So take advantage of that, go out in nature, find the science, ask the questions, and then, most importantly, find the answer.
Robyn: What do you think about Science as a content area for English Language Learners?
Kate: I will say that science, in general, has its vocabulary. And so, like anything new, you must learn the words to understand it. So, the very first step to becoming a scientist is learning the vocabulary.
In the past, when I was running the outreach program Fun with Chemistry, we had a lecture in Spanish, and it was for ESL students.
Robyn: Do you feel they connected with the activity?
Kate: It was definitely a way to connect with that particular group of students, and they appreciated our effort and what we had gone through to try to bring what we had been doing in all the other schools.
Working with Summit K12
Image by Ricardo Santiago.

Robyn: What was your favorite part about working with a team at Summit K12?
Kate: I think we became a family. It's been really fun. We've worked together for so long. Having all these different people from different backgrounds come together. I think they've officially joined my STEM Army, and so now, like it or not, I've forced these people to think like a scientist.

Future Plans for Kate the Chemist
Robyn: Finally, what's next on the horizon for you?
Kate: The big thing is that season two of Seeking a Scientist, my podcast, has been picked up, so we will be pushing that out soon. Then, we will have double the number of episodes because our audience has grown, and the demand is there.
I'm proud of the fact that NPR wants to work with me and that they're letting me host my dream podcast, and that is just so fun – so cool. I'm really, really lucky and honored that they do that.
Robyn: Will you be at CAST?
Kate: I'll be at CAST. I'm looking forward to interacting with people and talking about the work we did here at the Summit.
Follow Kate the Chemist
Robyn: Where can we follow all of your work?
Kate:

Robyn: Thank you so much, Kate! We're so excited to keep working with you!
Latest posts by Robyn Shulman
(see all)